In order to perform real-time data acquisition  with iMSB  M-Link, iMSB  FrSky or iMSB  HoTT a RC transmitter or HF module equipped with a data or serial port is required.
Telemetry data is available at the transmitter in the form of a serial data stream. In order to transfer the data into an iPhone or iPad a dedicated iMSB Bluetooth Smart, also known as Bluetooth 4.0, module is to be used. This module is connected physically to the data port of your transmitter.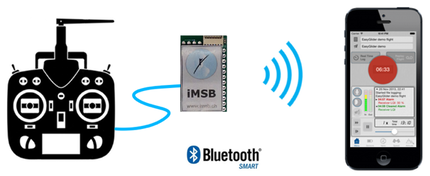 Using the iMSB data module is very simple. Just plug it into the transmitter data port, select the module in the iMSB application settings and hit the start button to start your flight logging. No additional or clumsy configurations are necessary.
The main advantages of Bluetooth Smart are its simplicity of use, reliable communication and low power consumption. Our iMSB BT Module when not in use drains only about 15 mA when transmitting data. 
In order to use the Bluetooth Smart module your iPhone or iPad must be of a newer generation that support this technology. Supported devices are:
iPhone 4s or newer

iPad 3rd generation, iPad air and iPad mini or newer
iMSB version 3.0 is required.
When installing a BT Smart module in your transmitter always perform a range check before flying in order to insure proper operation of your model. If the range is significantly reduced, you should take additional measures to reduce the effect of interference. We cannot be held liable for any erroneous installations and improper use.
Note that any modifications done to your transmitter may void the manufacturer warranty.